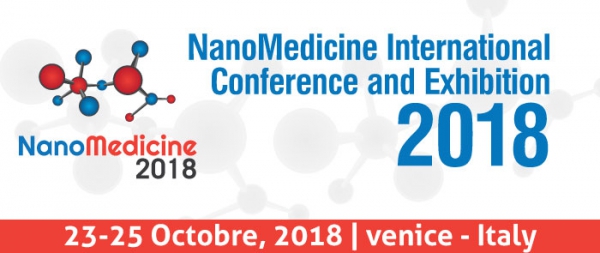 NanoMed / SMS / EGF 2018 International Joint Conferences
Register to confirm your attendance by September 21, 2018
Dear Colleague,
Don't miss the opportunity to present your research results at the NanoMedicine International Conference – NanoMedicine 2018, Smart Materials and Surfaces – SMS 2018 and European Graphene Forum – EGF 2018 joint conferences and discover the recent advances and innovations in the areas of new materials and nanomaterials:
Abstracts submission for oral or poster presentation is still open till the 18 September 2018. Don't miss this opportunity to join.
Registrations open till September 21, 2018
Registration to the conferences is open to abstracts authors and co-authors as well as attendee (without presentation) from academia and industry. It's open till September 21, 2018. The registration to one of the conferences, will allow you to access to all the sessions of the three conferencess taking places under the same roof.
Group Discount:
Please contact us by email to confirm the details and get a Group Code (4 or more attendee).
Latest Keynote speakers
NanoMedicine 2018
Prof Prof. Silvia Marchesan (University of Trieste, Italy)
Prof . Massimo De Vittorio(Italian Institute of Technology, Italy)
Prof. Giuseppe Battaglia, University College London, UK)
Prof. Peilin Chen(Academia Sinica, Taiwan).
Smart Materials and Surfaces 2018
Prof. Georgios Priniotakis(Piraeus University of Applied Science, Greece)
Prof. Taek-Soo Kim(KAIST, Rep of Korea)
Prof. Kim Meow Liew(City University of Hong Kong, China)
Prof. Kaspar Jansen(Delft University of Technology, The Netherlands)
European Graphene Forum 2018
Prof. Vladimir Falko(Manchester University – United Kingdom)
Prof. Harold J.W. Zandvliet(University of Twente, The Netherlands)
Prof. Rita Rizzoli(CNR Institute for Microelectronics and Microsystems- Bologna, Italy)
Prof. Jeanie Lau (Ohio State University, USA)
Send this to a friend
Do you have a friend or a colleague that might be interested? Forward this mail to update him on this event. If you received this email from a friend, subscribe to the newsletter.
For more information, please visit www.setcor.org or contact us by E-mail.
We look forward to having you with us in Venice, Italy!