Prague INSPIRE Hackathon 2019
THEME
Big data, semantics and artificial intelligence
This hackathon is organised in the frame of the INSPIRE Hackathon series.
DATES & VENUE
The Prague INSPIRE Hackathon 2019 will be held from 21st to 23rd January 2019 at the Czech University of Life Sciences in Prague. These are the on-site hacking dates.
Location: Faculty of Economics and Management of the Czech University of Life Sciences in Prague, Kamýcká 129, Praha Suchdol, Czech Republic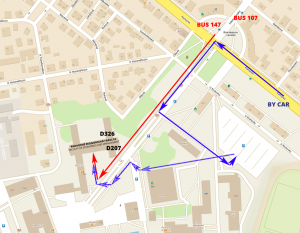 PARTICIPATION & REGISTRATION
THE FIRST PHASE of the Prague INSPIRE Hackathon 2019 starts before the actual on-site hackathon. During the first phase, teams are formed and registered, and preparation of team projects for the on-site hacking is happening. You can create your own team with people you know or people you've worked with before. Or you can can explore the existing ideas and teams that have been already created and you can simply join them.
THE SECOND PHASE includes the on-site hacking, presentation of results and winning ceremony, 21-23 January 2019 at the Czech University of Life Sciences in Prague. During the three days all projects will be finalised. All the teams will be invited to present their projects on the last day. For this reason, the teams should prepare presentations showing the results of their hackathon projects.
REGISTRATION – the registration process is twofold. First, you need to register your project including the title, abstract and other details. As soon as your project is registered, you can register all members of the team that will be working on the project. Or anyone interested in your project might sign up as the member of your team and contribute to the project execution.
The registration is available at https://goo.gl/forms/R0cda5esAOr7sNHz2
EVALUATION
Each team will be evaluated by the jury based on the following criteria:
Interoperability of the solution
INSPIRE, COPERNICUS and GEOSS relevance
Use of big data
Use of semantic information
Use of artificial intelligence technologies
Clarity of the presentation
AWARDS
The best three projects/teams selected by the jury will be awarded. This includes
USB sticks branded by the INSPIRE Hackathon
a live broadcast on social media
an interview (video/audio) with the winning team that they can use freely and that will be published in selected channels
ACCOMMODATION
Hotel Galaxie – about 700 meters from the meeting venu
Dormitories at the uni campus
CONTACT
For any inquiries please contact us at inspire-hackathon@plan4all.eu
IMPORTANT DATES
12 November 2019 – start of the Prague INSPIRE Hackathon 2019 – registration opens
12 November 2018 – 18 January 2019 – registering teams and project ideas, and preparation of the projects
21 – 23 January 2019 – on-site hacking, presentation of results and the finale including awards
– please see more information here: https://www.plan4all.eu/prague-inspire-hackathon-2019/.
---