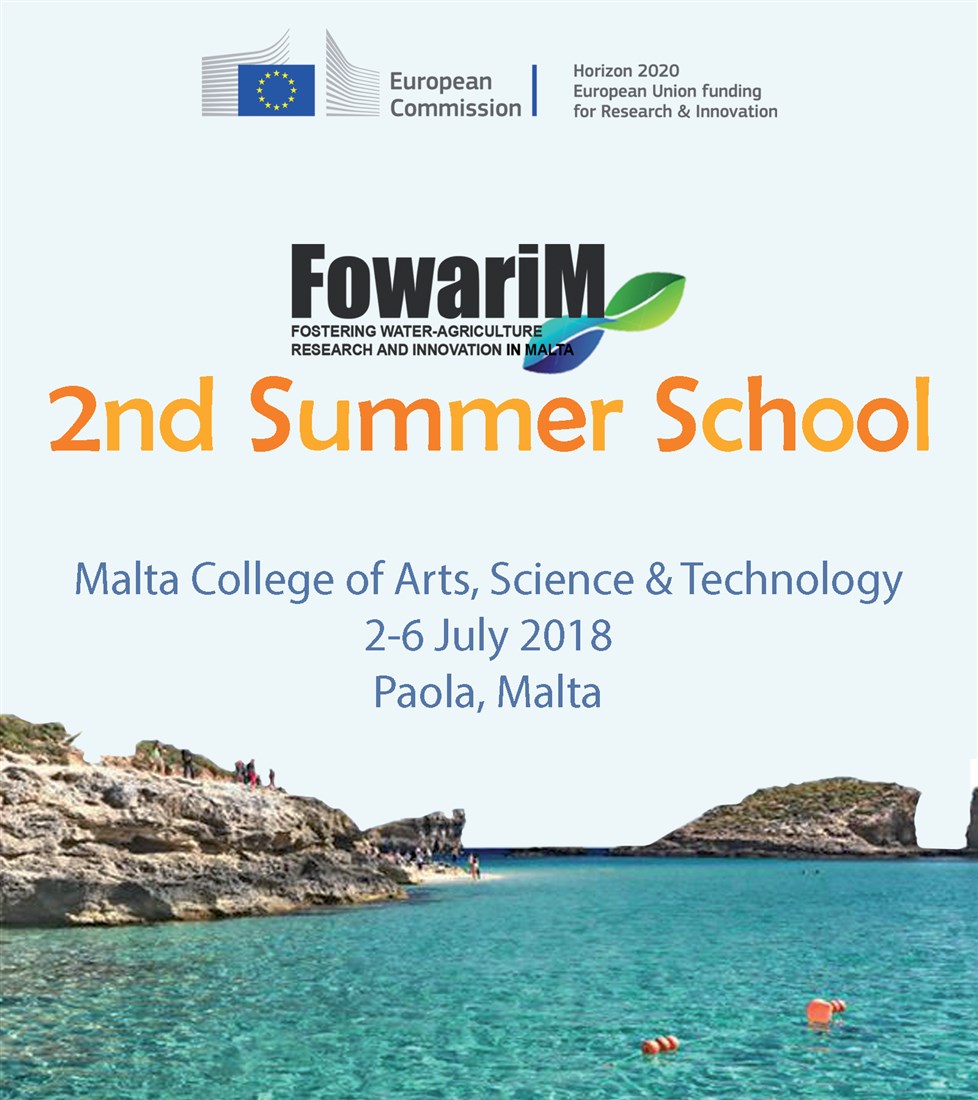 A free Summer School in Malta focused on the theme of circular economy in water and agriculture
From 2 to 6 July 2018, the 2nd Summer School of FowariM will take place in Malta, at the premises of the Malta College of Arts, Science and Technology (MCAST). 5 days of lessons, 2 field visits, 1 networking dinner and many other activities, including the creation of a business model with the LEGO SERIOUS PLAY method, focused on the topic of circular economy applied to the agriculture and water sectors. The school is free of charge and registration is open until the 30th of June for a maximum of 25 participants.
The sustainable management of the water resources in Malta is imperative for ensuring the health of the population and for the future development of the island. The country records the lowest volume of water resources among the EU Member States and, at the same time, the highest average cubic meters of water used per hectare on irrigated land.
The 2nd Summer School of FowariM – H2020 project funded by the European Union – will address this topic for a week, from 2 to 6 July 2018, at the MCAST Institute in Paola, Malta. The School aims to demonstrate in a practical way the importance of technological innovation in agriculture towards the achievement of process of circular economy, in order to sustain the value of materials and resources and minimize the generation of waste.
Through the intervention of lecturers from 6 European countries (Belgium, Italy, Malta, the Netherlands, Spain and United Kingdom), the Summer School will foster a participatory and practical approach promoting interactions between students, farmers, and policy makers. Two open-field visits are scheduled: to show how a farm is run through circular economy and to exchange views with authorities in the water sector.
To dynamic the training, a session will be dedicated to the creation of a business model with the LEGO SERIOUS PLAY methodology, an innovative tool designed to foster creativity and business performance through play. Moreover, participants will be able to network with colleagues from different universities and exchange experiences with experts (farmers, professionals and researchers).
The Summer School is divided in three modules:
Research and Innovation support to young researchers and SMEs;
Innovative Water Technologies;
Water Management, Governance and Policy
The real opinions of last year's attendees endorse the 2nd summer school:

The school is free of charge. Registration is open until the 30th of June at: bitly.com/FowarimSchoolRegistrationForm for 25 participants.
More information on the Summer School, including practical information, agenda and list of speakers, is available on the website of FowariM: http://fowarim.eu/events/fowarim-2nd-summer-school-2-6-july-2018/.
For more info, please write at: cmunoz.efb@gmail.com
---