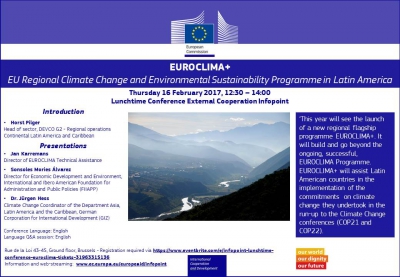 Infopoint Lunchtime Conference: EUROCLIMA+
On Thursday, February 16, 2017, it was held in Brussels, Belgium, the Infopoint Lunchtime Conference aboutnew regional flagship programme EUROCLIMA+.
In this Infopoint Lunchtime Conference, it was detailed that EUROCLIMA + will be launched in 2017 and itwill assist Latin American countries in the implementation of the commitments on climate change they undertook in the run-up to the Climate Change conferences (COP21 and COP22).
The speakers were Mr. Jan Karremans, Director of EUROCLIMA Technical Assistance; Ms. Sonsoles Mories Álvarez, Director for Economic Development and Environment, International and Ibero American Foundation for Administration and Public Policies (FIIAPP); and Dr. Jürgen Hess, Climate Change Coordinator of the Department Asia, Latin America and the Caribbean, German Corporation for International Development (GIZ)
The new regional flagship programme EUROCLIMA+will go beyond the ongoing, successful, EUROCLIMA Programme, if you wish to see the full conference visit the following link.
---