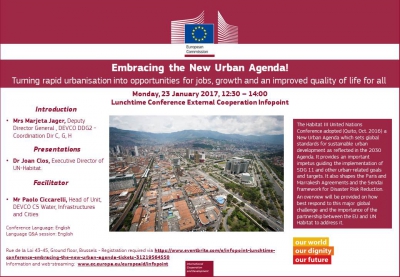 Lunchtime Conference External Cooperation Infopoint: New Urban Agenda
Lunchtime Conference External Cooperation Infopoint: New Urban Agenda
On Monday, 23.01.2017, at 12.30-14.00, It will be take place the Lunchtime Conference External Cooperation Infopoint about Urban Agenda, titled "Turning rapid urbanisation into opportunities for jobs, growth and an improved quality of life for all".
The Habitat III United Nations Conference adopted (Quito, Oct. 2016) a New Urban Agenda which sets global standards for sustainable urban development as reflected in the 2030 Agenda.
The "External Cooperation" Info Point acts as the interface between citizens and the various services of the Commission dealing with external relations, a space devoted to dialogue and the exchange of ideas
The Lunchtime Conference will begin with an introduction by Mrs Marjeta Jager, Deputy Director General , DEVCO DDG2 – Coordination Dir C, G, H. Following, Dr Joan Clos, Executive Director of UN-Habitat, will make the presentation. Facilitator in charge will be Mr Paolo Ciccarelli, Head of Unit, DEVCO C5 Water, Infrastructures and Cities.
If you want to register, please, click here.
To get more information click here.
---