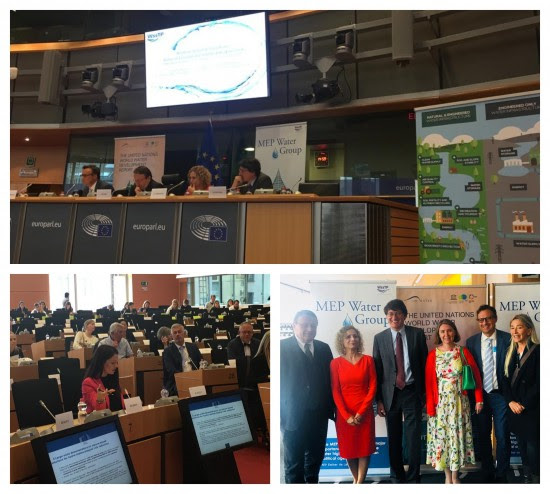 Public session on the WWDR 2018 at the European Parliament
On the 22th of May, the MEP Water Group in cooperation with the World Water Assessment Programme of UNESCO, hosted a successful public session for its 2018 United Nations World Water Development Report on 'Nature-based solutions for water' at the European Parliament.
Chaired by the MEP Paul Rübig, the session focused on informing policy and decision-makers, inside and outside the water community, about the great potential of nature-based solutions (NBS) in addressing contemporary water availability, quality and water management challenges across the sector.
A panel discussion brought together the perspectives from the water policy side, the industry, the utilities and the civil society that were presented by the following experts:
Development perspective: Chantal Marijnissen, DG International Cooperation and Development (DEVCO)
Environmental perspective: Victor Beumer, WssTP Cluster Leader on Hybrid Grey-Green Infrastructure.
Utilities perspective: Patricia Ragazzo, VERITAS SPA
Research and Innovation perspective: Julie Delcroix, Directorate-General for Research and Innovation, European Commission.
The session was supported by the EU Bulgarian Presidency with Atanaska Nikolova, Deputy Minister of Environment and Water from the Bulgarian Government being among the speakers of the session. The Deputy Minister pointed out that "the protection of water resources is very challenging but a key to sustainable development".
During the introductory remarks, MEP Paul Rübig emphasized that within the next years, "160 billion should be invested in the next European research and innovation programme". Paolo Fontani, UNESCO representative to the European institutions and UN-Water Chair, closed the first session stating that "Parliaments are places of dialogue and compromise where solutions are shaped in the best interest of citizens" and insisted on the importance of the World Water Assessment Programme towards the future of water.
The session continued with Stefan Uhlenbrook, Coordinator and Director and World Water Assessment Programme (WWAP) of UNESCO, who presented in detail the main policy messages and findings of the WWDR2018, explaining that Nature-Based solutions are important for our agriculture but also for the creation of more sustainable cities.
After the Questions and Answers session, MEP Miriam Dalli made a closing remark emphasizing the need to recognise the Value of Water and the importance of Digital Water, Hybrid Grey-Green Infrastructures and a good water governance for our society.
The 2018 MEP Water Group session brought forward a great variety of insights and concluded highlighting, once again, the significance to tackle the current and future water challenges with new cost-effective maintenance solutions, practices and education.
​
To read the 2018 UN World Water Development Report, please click here.
Video on the UNESCOEU Youtube channel here
---