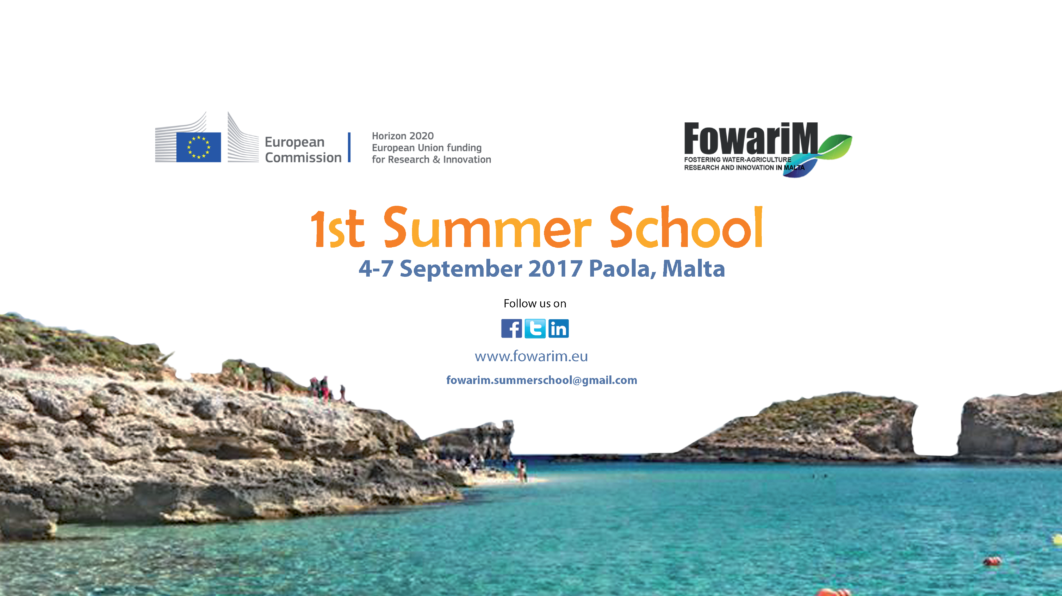 SAVE THE DATE: H2020 FOWARIM project 1st Summer School in Malta on September 4-7, 2017
Water is vital for life on Earth. A healthy water sector is critical to economic growth and competitiveness. Complex water-security challenges that Europe is facing forced the European Union to provide sufficient investments for the latest water treatment technologies, recycle and re- use water.
We are pleased to announce that Europe for Business Ltd, in partnership with the H2020 FOWARIM project partners, will hold the 1st Summer School in Paola, Malta on 4-7 September 2017.
FOWARIM Summer School aims to enhance the potential of Malta College of Arts, Science & Technology to run national and international scientific research projects in water agriculture through a joint summer school. This Summer School stimulates learning not only through the cases of success but also through failures.
Methodology and agenda can be found by clicking here.
Background
The FOWARIM project – Fostering Water-Agriculture Research and Innovation in Malta – (www.fowarim.eu) objective is to strengthen the research capacity of the Malta College of Arts, Science & Technology's (MCAST) Water Research and Training Centre in 4 crucial themes related to the field of water use in agriculture:
Decreasing Water Demand;
Making Use of Alternative Sources of Water;
Renewable Desalinization, On-Farm Desalinization and Utilization of Saline Water;
Decreasing Negative Environmental Externalities Caused by Nutrient-Rich Farm Waters.
FOWARIM is a Coordination and Support Action (CSA) project that has received funding from the European Union's Horizon 2020 Programme for Research and Innovation under Grant Agreement no 692162.
---