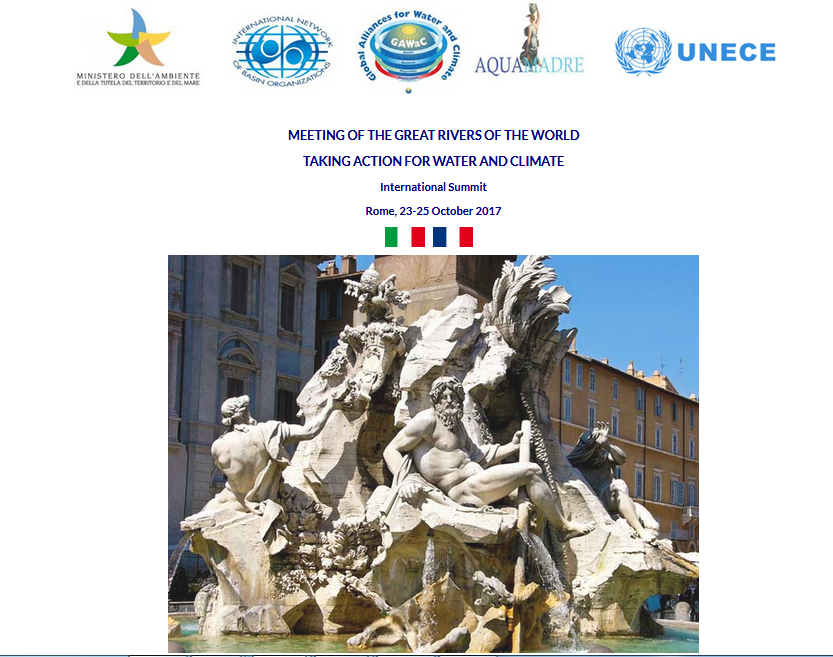 SAVE THE DATE: INTERNATIONAL SUMMIT OF THE GREAT RIVERS OF THE WORLD: "TAKING ACTION FOR WATER AND CLIMATE"
On October 25 and 26, 2017, Europe for Business Ltd., EFB, will be attending on behalf WaterClima-LAC Project the International Summit on "Water and Climate; Meeting of the Great Rivers of the World", in Rome, ITALY.
 This international summit is organized by the Italian Ministry for the Environment, Land and Sea, in partnership with the United Nations Economic Commission for Europe (UNECE), the International Network of Basin Organizations (INBO), the Global Alliances for Water and Climate (GAfWC) and Aquamadre.
The President of the Italian Council of Ministers, H.E. Paolo Gentiloni, will officially open the Summit on 23 October in the morning.
The closing ceremony on 25 October will be celebrated in the presence of the President of the Republic, H.E. Sergio Mattarella, at the end of the morning.
 It will especially focus on the need for quick action to finance projects to improve knowledge, governance, public participation and take immediate measures for water adaptation to climate change.
 Mr. Piccinetti, Managing Director of EFB, will be disseminating the results and activities of WaterClima-LAC Project.
To participate in the summit, please here.
For any further information, please click here.
---