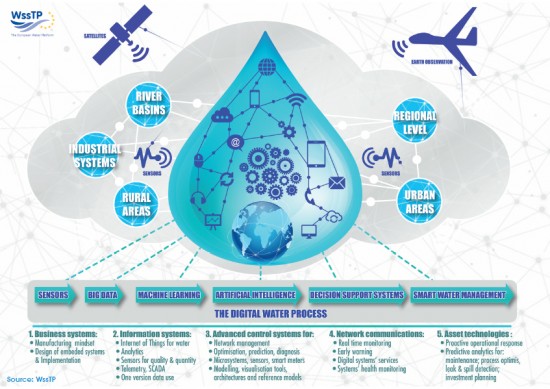 Special break-out session dedicated to "Digital Water"
In the context of the OASC Connected Smart Cities conference held on the 12th of January 2017, WssTP organized a special break-out session dedicated to "Digital Water: Water management is one of the biggest existing deployments of sensors in urban areas".
The session was made up of 3 panels in which participants offered their viewpoints about opportunities and needs of digital solutions for addressing the current and future global water challenges.
Mr. Andrea Rubini, Scientific and Policy Manager of the WssTP, opened the session and explained how the new WssTP Water Vision 2030 emphasises the role of digital water as pivotal pillar for the development of a European sustainable and circular water-smart society.
The first panel featured two high-level EU policy makers:
Mr. Panos Balabanis, Deputy Head of Unit DG RTD, Climate Action and Resource Efficiency, and
Mr. Olavi Luotonen, European Commission, DG CONNECT, Internet of Things.
The second panel gathered the perspectives of the "problems owners" (City and Utility) represented by
Mr. Jakob Møller Nielsen, Director for Urban Development, City of Copenhagen, and
Mr. Joan Carles Guardiola, R&D Engineer at Grupo Aguas de Valencia.
The third panel presented the viewpoints of the "solutions providers" featuring:
Ms. Montserrat Mussons, Digital Roadmap Manager – CETaqua;
Mr. Jesper Kjelds, Senior Vice President, Heat Cooling Water Systems Division Kamstrump, and
Mr. Juergen Sturm, Member of the management board of the AIOTI and Director Governmental Relations and Public Affairs EMEA at Texas Instruments.
The session demonstrated that digital water technology is already bringing forward promising results but this needs to be further developed and scaled-up through effective actions and tools, such as pre-commercial procurement and living labs. The speakers stressed that digital water solutions can drive the infrastructure renewal, retrieve the true value of water, boost new water management models and make cities resilient to climate change and security threats.
For more information, please contact Durk Krol.
Download here the WssTP Water vision 2030
---