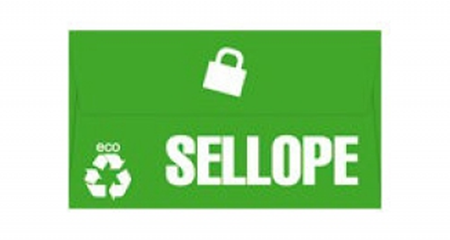 SELLOPE, Italy
The main objective of SELLOPE project is to produce – at industrial level – an innovative envelope, made from certified FSC paper, laminated with eco-plastics and Mater-Bi, and incorporating techniques for tamper indicating. The secondary aim of the project is to demonstrate the application of innovative materials and environmental benefits of biodegradable and compostable packaging to wider audiences.
The SELLOPE envelope complies with the requirements for security, biodegradability and reduction for environmental impact, caused by plastics industry. Such envelope will be made of a sheet of paper folded in two parts, in such a way as this fold could make the bottom of the envelope, and the two sides will be sealed at their edges, and for the closure side will be used a safety label.
All the raw materials are ecological (either certified, either coming from approved sources), and the envelope will feature all the characteristics for content confidentiality protection to be defined as a secure envelope. To implement this objective will be implemented a set of indicators to measure the eco-compatibility of paper envelope (taking into account all the Life-Cycle Approach of the product).
The "leitmotiv" of SELLOPE project is conquering a niche market in packaging industry, which currently operates without clear indicators for eco-compatibility of the products.
---